If you're planning a wedding service that includes guests, a processional/recessional and music, and simply want the basics included in your wedding ceremony, then this might be the perfect solution for you.
This affordable, beautifully-worded, pre-written ceremony (in your choice of secular or nondenominational religious wording) lasts approximately 12-15 minutes (exclusive of your processional time) and includes the following:
Processional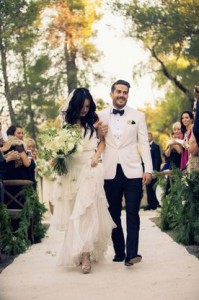 Opening words (also known as the greeting)
Statement of Intention to Wed (the "I do's")
Repeated vows
Exchange of rings
Signing of the marriage license
Final blessing
Pronouncement of the couple as husband and wife (followed by a kiss!)
Recessional.
You will consult briefly with your officiant beforehand via phone and email and he or she will help you put together your processional order. Prior to the wedding day, your officiant will email you a copy of your ceremony script with the names of your wedding party members and their order of entrance included. Your officiant will also be available via telephone and email to answer any ceremony-related questions you may have.
Your officiant will arrive 20 minutes prior to the start of your ceremony, line up your wedding party and ensure that they get down the aisle in fine style. We'll also use that time to coordinate with your musicians and photographer to make sure everything runs smoothly.
Basic Ceremony Includes:
Your choice of pre-written secular or nondenominational religious ceremony in the setting of your choice
Pre-wedding phone and email consultation to establish your processional and recessional order as well as to answer your ceremony-related questions
Written script of your ceremony, with bridal party members included
Unlimited number of guests
Performing of ceremony by one of Lyssabeth's Oregon wedding officiants
Arrival of officiant 30 minutes prior to start of ceremony
Filing of license
Type of Ceremony
Date & Time of Ceremony
Make payments with PayPal – it's fast, free and secure!
Make payments with PayPal – it's fast, free and secure!
What's not included
The Basic Ceremony is a pre-written ceremony that does not include additions such as readings, Unity Candle, Bowls of Blessing, etc. The Basic Ceremony provides for telephone and email consultations only. An in-person meeting is not necessary for this level of service. If you desire a more customized ceremony, or wish to meet with your officiant in person prior to the ceremony, then we suggest our Classic Custom Ceremony.
The Basic Ceremony does not include a rehearsal. Most couples who choose this option feel that a rehearsal is not necessary. If however, you would like to add a rehearsal to this ceremony level, then you may do so for an additional $100.