You're planning your fabulous Oregon wedding! How exciting! (We're excited for you–we love weddings of all kinds!)
Putting together a wedding can be an exhilarating experience as well as a somewhat nerve-wracking one. After all, there are no "do-overs" for your big day! Our staff of experienced wedding officiants guarantee that your ceremony will be all that you've dreamed of.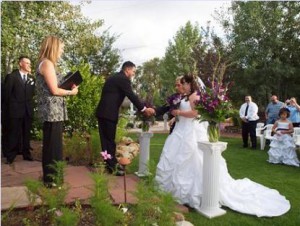 Your ceremony is the heart of your wedding-day celebration; the public declaration of your feelings for each other. Make sure it celebrates your love and feels true to you.
More and more couples are choosing Lyssabeth's Oregon Wedding Officiants services over traditional (church) ministers or a justice of the peace. Why? Because our wedding officiants are dependable and creative ceremony specialists who are passionate about what we do and we respect your preferences and values.
Have your ceremony any way you want
*Secular
*Religious
*Spiritual
*Humanist
*Interfaith
*Traditional
*Nondenominational
*Contemporary
or
any combination of the above!
And if you're not sure where to start, we've got an abundance of ideas and resources for you. As your wedding officiant, our role is to implement your wishes, assist you with ideas, provide you with resources, answer your questions and facilitate a smooth and worry-free ceremony. We promise to keep you and stress as far apart from each other as possible on your wedding day.
Oregon Wedding Ceremony Services for Every Budget
We understand that every couple prioritizes their wedding-day expenditures according to what they value most. Some folks want to keep their ceremony short and sweet and somewhat traditional, while others want a totally over-the-top unique expression of their love. We offer it all–from a two-person elopement, to 500 guests at the country club and everything in between. It's all about what you want.
Please visit our Services and Fees Page to read about the various ceremony levels that we offer and see which one is best for you. If you're not sure, contact us and we'll help you decide (We know what questions to ask to help you make your decision!).
We offer both personalized and affordable service
You'll work one-on-one with your chosen wedding officiant. All of Lyssabeth's Oregon Wedding Officiants (read our bios here) obtained our minister/officiating credentials solely for the purpose of legally performing weddings. We come from backgrounds that include public speaking, teaching, event-planning, counseling, writing and the arts. Our excellence at what we do stems from our passion, our experience, our creativity and our open-mindedness.
We'll get to know you so that we can tell your unique love story on your wedding day in the most creative, inspirational way possible. We utilize our listening skills, creativity, humor, experience and can-do attitude to create a wedding ceremony that will be exactly as you want it every step of the way.
Because we are a group of officiants, we always have a back-up officiant in the unlikely event that an emergency prevents your assigned officiant from being there on your wedding day. We guarantee to be there when you need us!