…our premier choice for the ultimate culmination of your personal love story
The Premium Custom ceremony is our top of the line offering. We'll pull out all the stops to make your ceremony a unique, one-of-a-kind experience. You can use our wide array of ceremony resources, or we'll craft a customized ceremony from scratch.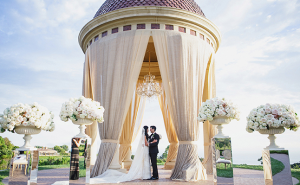 We'll suggest ideas for each facet of your ceremony and tell you what has worked (and what hasn't) for other couples. You can include as many people as you like in your ceremony and we'll coach them every step of the way. You don't need to ask, "Is it possible to…?" The answer will always be a resounding "YES!" (as long as it's legal!) . We'll get together and write a draft of your ceremony approximately two months before your wedding e-mail it to you for revision and editing and make whatever changes you want until it's just the way you want it. You will have a final written script of your wedding two weeks prior to the event. And we'll make sure we get to know you both personally, so that we may, with your permission, tell a personal story or two at your ceremony.
The Premium Custom ceremony includes our attendance at your rehearsal, where we'll take care to make sure everything runs smoothly for the real thing! On your wedding day, we'll arrive 60 minutes prior to your ceremony and serve as an informal coordinator to make sure everyone is in the right place at the right time and as relaxed as we can help everyone to be. We'll coordinate with other your other wedding vendors to ensure that we are all on the same page. And, if something should go amiss on the big day, you can be sure that our experience and sense of humor will smooth over any trouble spots. We've learned there is no "disaster" that a relaxed attitude and a good laugh can't fix!
Premium Custom Ceremony Includes:
Your choice of officiant (subject to availability)
Getting to know you meeting (initial consultation)
Unlimited ceremony-writing/review meetings.
Unlimited telephone and email consultation
Access to Lyssabeth's vast resources for ceremony ideas, with unlimited number of additional options
Ability to add ceremonial elements that are not part of Lyssabeth's component offerings (especially useful if you want to include little-known cultural or religious features)
Individually written, creative ceremony that is uniquely yours
Individual consultation to write your own wedding vows
Prior consultation with ceremony participants (readers, speakers, singers, musicians, photographers, etc.)
Facilitation of rehearsal
On-site pre-ceremony coordination 60 minutes prior to ceremony
Performing of ceremony
Filing of License
Free change of name kit for the bride
Type of Ceremony
Date & Time of Ceremony
Make payments with PayPal – it's fast, free and secure!
Make payments with PayPal – it's fast, free and secure!
Includes up to 100 round trip miles. Additional miles billed at $.50 per mile
$619