…romantic and intimate
This ceremony lasts approximately 10-12 minutes and includes the following: opening words (also known as the greeting), preliminary vows (the "I do's"), repeated vows, an exchange of rings, the signing of the marriage license, final blessing, pronouncement and a kiss!. Sometimes we are even able to perform these on the day that you call us. This option is suitable for couples who want something very short and sweet but do not want the "County Courthouse" environment. It is popular with couples who decide to elope and can often be arranged on very short notice.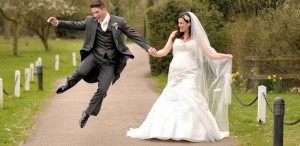 If you live in another part of the country and considering a brief ceremony followed by a honeymoon on the beautiful Oregon coast, then this ceremony option may be right for you.
Elopement Ceremony Includes:
Your choice of pre-written civil or nondenominational religious ceremony in a casual setting (no wedding party, processional, etc.)
Performing of ceremony by one of Lyssabeth's wedding officiants
Arrival of officiant 10 minutes prior to start of ceremony
Filing of license
Type of Ceremony
Date & Time of Ceremony
Make payments with PayPal – it's fast, free and secure!
Make payments with PayPal – it's fast, free and secure!
Elopement Ceremony…romantic and intimate
$199 (just the two of you)
$219 (with guests)
What's not included
This affordable ceremony is meant for intimate, informal gatherings and is not designed for couples who want more formability than this ceremony allows (such as a processional, a wedding party, etc.) If you are looking for those features at a still-affordable price, then we suggest our Basic Ceremony.
Also, we ask that for the low price of the Elopement Ceremony, you not ask us to make changes to the wording of this ceremony.